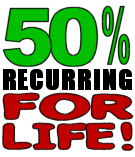 Do you have traffic that targets students? Turn those visitors into cash now! We offer a true 50/50 partnership where you get 50% of the initial signup and 50% of the rebills month after month until the customer cancels their membership. We even cover the credit card processing fees for you.

All stats and checks are handled by CCBill, an established and reputable third-party processor that has been paying out thousands of webmasters weekly and on time since 1998. Unlike some other affiliate programs, there are no traffic leaks on our sites. We do not run any other advertising or promote any other programs where you do not get paid for the traffic you send us. Make more with EssayCash.

How much can you make with EssayCash? Check out the chart below and see the kind of money that can be made with even a small amount of traffic. We have webmasters making thousands of dollars a month that you can be making too.
Daily Signups
1st Month
3rd Month
5th Month
1
$180.00 Per Month
$336.00 Per Month
$402.00 Per Month
5
$900.00 Per Month
$1,680.00 Per Month
$2,016.00 Per Month
10
$1,800.00 Per Month
$3,348.00 Per Month
$4,032.00 Per Month
20
$3,600.00 Per Month
$6,696.00 Per Month
$8,064.00 Per Month
These examples are based on our actual customer retention for Essayarchive.com
BONUS: If your account makes $1000 per month or more, we will bump your percentage up to 55% for all signups and rebills. Make $2,000 a month and we will give you an additional 5% on top of that. That is a whopping 60% recurring for each member! Nobody else pays more than us... Nobody!
CLICK HERE TO SIGNUP NOW!
---



| | |
| --- | --- |
| Number of Essays: | 35,000+ |
| Subscription Price: | $17.95 per month |
| | $34.95 per 3 months |
| | $59.95 for 6 months |
| What You Are Paid: | $9.00 per month |
| | $17.50 per 3 months |
| | $30.00 for 6 months |



---



| | |
| --- | --- |
| Number of Essays: | 40,000+ |
| Subscription Price: | $18.95 per month |
| | $34.95 per 3 months |
| | $59.95 for 6 months |
| What You Are Paid: | $9.50 per month |
| | $17.50 per 3 months |
| | $30.00 for 6 months |